Posted on | July 11, 2009 |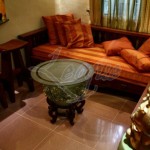 Another sample use of old wood – hardwood day bed that we make. This one, place in the spa room area. What a way to get pampered, comfortable mattress & sheets (not included) on hardwood tropical hardwood daybed! Home massage doesn't get any sweeter & relaxing than this. Light the candle and indulge.
Other applications of daybed are patio placement, lanai, foyer, living room, or use as sleeping bed, etc. Virtually anywhere you would want to relax and spruce up an area with a rustic themed daybed. Size vaies, can range from single, double, queen size, king size or can be custom made, based on your requirement. See other daybed furniture made in the Philippines.
Popular Tags
abaca
art
bamboo
bench
book
buddha
candle holder
center table
chair
clock
coffee table
console
console table
design
desk
dining chair
dining set
dining table
divider
floor lamp
frame
glass
ig
instagram
kamagong
lamp
metal
mirror
pedestal
photography
pr
rattan
set
shelves
side table
stainless
steel
stool
storage
table
tv rack
vase
wall clock
wood
woodwork