Posted on | August 10, 2010 |
We sold two (2) sets of the L.O.V.E. wall shelves yesterday and today. Checking back the product post, the mock set-up is, letter shelves were arranged straight. The specs has "Suggested mounting is of different heights to get the best impact of the word/letters" mention though. During design and drawing, we projected it to be installed like this…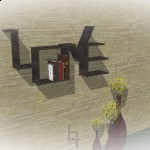 See more photos (or price) of this item. Please Login or quick Register to view the rest of the content. Easy Register now.
And that we feel is the best LOVE arrangement to get the best effect. Not to mention that this formation and with use of simple L-brackets, this is better in as far as spreading the loads better. And so in this (book)case, don't spread the love.
Get the love shelves here.
*Illustration by John Que.
Popular Tags
abaca
art
bamboo
bench
book
buddha
candle holder
center table
chair
clock
coffee table
console
console table
design
desk
dining chair
dining set
dining table
divider
floor lamp
frame
glass
ig
instagram
kamagong
lamp
metal
mirror
pedestal
photography
pr
rattan
set
shelves
side table
stainless
steel
stool
storage
table
tv rack
vase
wall clock
wood
woodwork